ONE STRUCTURE CAN CHANGE THE WORLD.
American Structural Concrete believes the work you do matters and we've seen how a single structure can unite a community and bring inspired growth. We're committed to working closely, as your partner, to help build your future one project at a time.
We don't just pour concrete, we provide solutions. Our experienced team of project managers is eager to provide consultative input to help get your project from concept to completion. We excel at creating tailored solutions because we listen to our customers, understand their exact needs and possess unmatched industry know-how. Our insightful and professional approach to communication enables us to work with architects and engineers to collaborate on innovative and cost-effective approaches that maximize ROI.
TRADITIONAL FORM AND TURNKEY FRAME
This is the "bread and butter" of the construction industry and where we earned our reputation. Concrete frame buildings are perhaps the most common modern structures. Our award-winning Turnkey Frame and Form Work projects stand amid skylines across the country, and our project teams deliver start-to- finish craftsmanship and a proven track record to complete your project on time and within budget.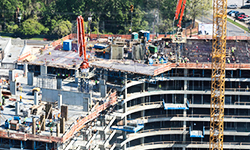 Hybrid Parking Deck construction provides clients the highest value with all the benefits of poured in place construction but with faster schedules and lower costs. American Structural Concrete's innovative hybrid solutions set the standard in quality.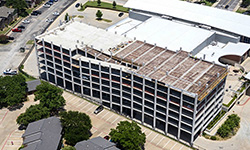 The use of plain, reinforced or pre-stressed precast concrete offers distinct advantages and American Structural Concrete has the experience and knowledge required to determine where and when precast shapes, structures, beams, supports or columns make the most sense from a performance, scheduling or cost standpoint. On-site construction using precast has become very popular because of not only its high quality but it's typically faster and safer. We can discuss your project objectives and advise you when precast is the right choice.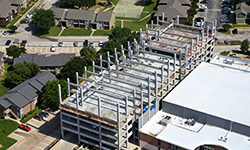 Tilt-Up construction has become one of the most cost-effective ways to erect industrial warehouses, manufacturing plants, big box retail stores and more. From Texas to Tennessee and the Carolinas to Miami, American Structural Concrete is your premier partner for any Tilt-Up project.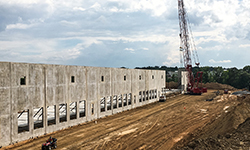 Industrial construction crews tackle the biggest and most specialized projects in the industry–bridges, power plants, manufacturing facilities and research laboratories. Our teams possess the know-how and the versatility to deliver solutions for the most challenging industrial projects.